A featured brick seat in a traditional garden
This week the landscaping team at ALDA have been busy constructing a curved brick seat in a garden in Barkham. The seat was designed by Alison to perfectly compliment the brick well it curves around. The well is a treasured feature in our client's garden and although recently restored, it was originally built in the 1920s to provide water to our client's house.
The new seating area has been built on an existing brick wall which originally just had a flower bed on top. Alison suggested to our client that this flower bed could be transformed into a feature seat providing a practical use, as well as being an effective way to accentuate the well.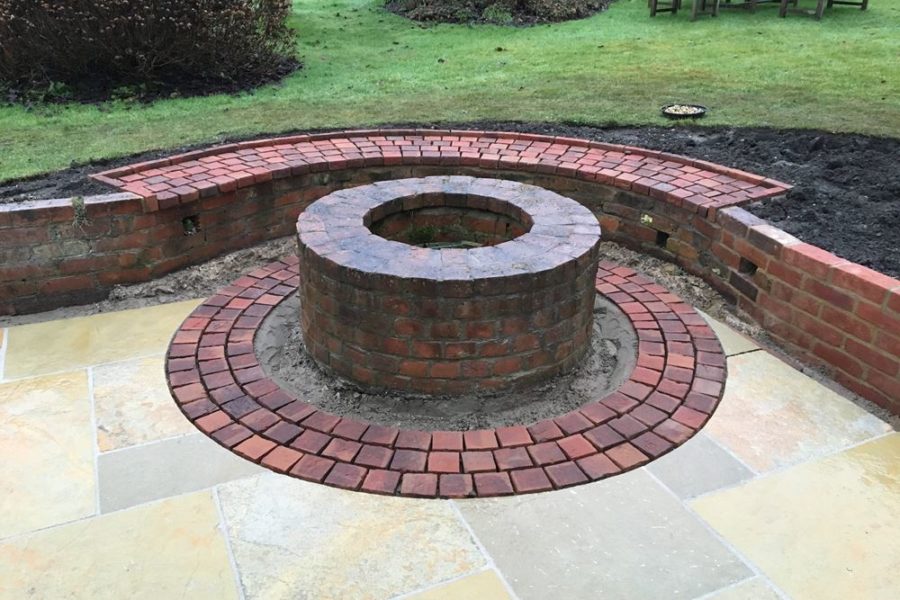 The surface of the seat is constructed from brick pavers, cut in half so they are 4" x 4". By cutting the pavers in half, a more precise curve is achieved along the line of the seat. The pavers are 'rose cottage' in colour, which tones in with the age of the bricks used in the well and the existing curved wall; they are sourced from the company Global Stone.
Along the outer edge, dividing the seat from the flower bed, we have installed a row of upturned pavers. This encloses it as a seating area and prevents soil from the bed spilling onto the seat.
Continuing with the circular theme, the same brick pavers are laid on the ground around the base of the well, providing a neat edge to the limestone paving. As seen in the photo, steel markers were set out to secure an accurate line. The brick pavers are laid 3 deep and provide another attractive detail to the seating area. Finally, a layer of shingle between the pavers and the well provides a tidy finish to the area.
So all that's needed now is a warm day – so that our client can sit and enjoy their new feature brick seat!