Transform your garden with a new patio
It is easy to underestimate the impact a new patio can have on your garden. It can instantly update and refresh a garden which hasn't been touched for many years. This was the case when we installed a new patio for a client two weeks ago in Barkham. Our client's aim was to make the area surrounding the house more accessible and to create a more unified and streamlined look.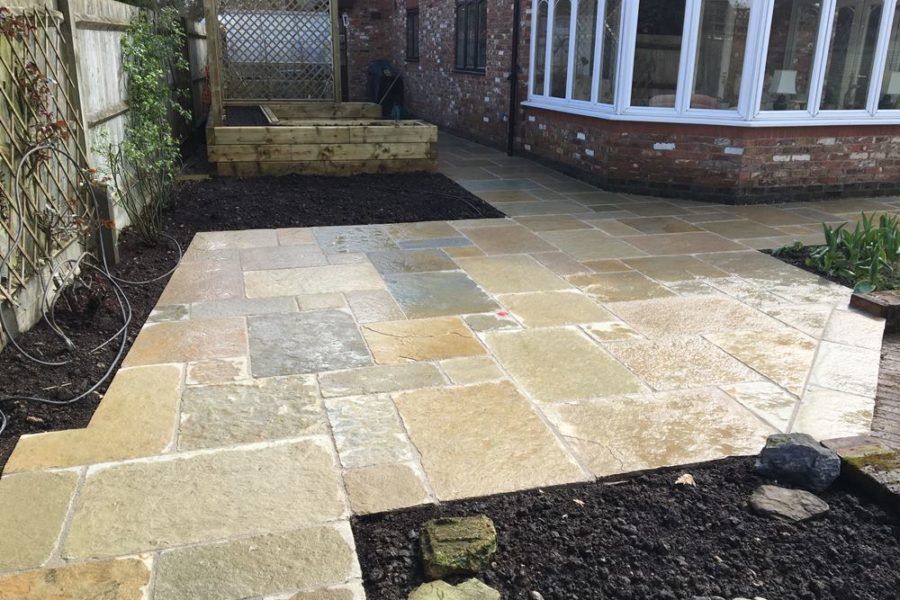 The first job for the ALDA landscaping team was to take up the existing paving from the patio area, and to remove the shingle and old block paving that made up a pathway down the side of the house, leading eventually to the bottom of the garden. We also removed the old timber arches along the path to the side of the house to free up the outlook and access to this area.
Next the ground was made ready for the new paving by excavating levels where necessary, and by placing a layer of scalpings on top of the prepared ground. The new patio is laid using tumbled 'Cotswold' limestone pavers (sourced from our supplier Nigel Belcher Turf and Paving 01635 202700), which are set out in a random pattern. It is a choice I personally endorse, it has become my favourite type of paving due to its high-end finish and hard wearing properties (please see previous blogs on the comparisons of the various paving products on the market). It is worth noting how the light colour of the 'Cotswold' limestone paving positively enhances the other colours in the garden, such as the green of the lawn and surrounding plants.
The limestone pavers were also used for the pathway down to the bottom of the garden immediately giving more definition and impact to this area. I think the end results speak for themselves, gone are the cluttered areas of shingle and old paving and in their place there is a level limestone patio. This has modernised and unified the look of the garden ready for our client to enjoy over the summer months.