John's Blog: Thinking of a new patio?
If a new patio is a tempting idea then read on …………
With Spring approaching now could be the perfect time to think about installing a new patio in your garden. If you are looking to update your garden with minimal disruption a new patio could be the solution.
At ALDA Landscapes we are experienced in design and construction of patios in all shapes and sizes ranging from small back gardens to patios that wrap around the house and lead off down into the garden. When it comes to building patios it is often the case that a formal design is not necessary and that ideas can be discussed between myself and the client. If your garden has a tendency to become water logged then fear not as we are experienced in providing drainage solutions and this should not prove an obstacle in achieving the patio you want.
Choices…
Many of our clients find the most interesting but also challenging side of designing a new patio is choosing the right paving to compliment the brickwork or outside walls of their house and the overall feel of their garden. This can be difficult due to the wealth of choice available in paving materials from the contemporary feel that slate can offer to the popular choice and warmer colours of Indian sandstone to the traditional requests for Yorkstone or concrete slabs to many others such as limestone and granite paving.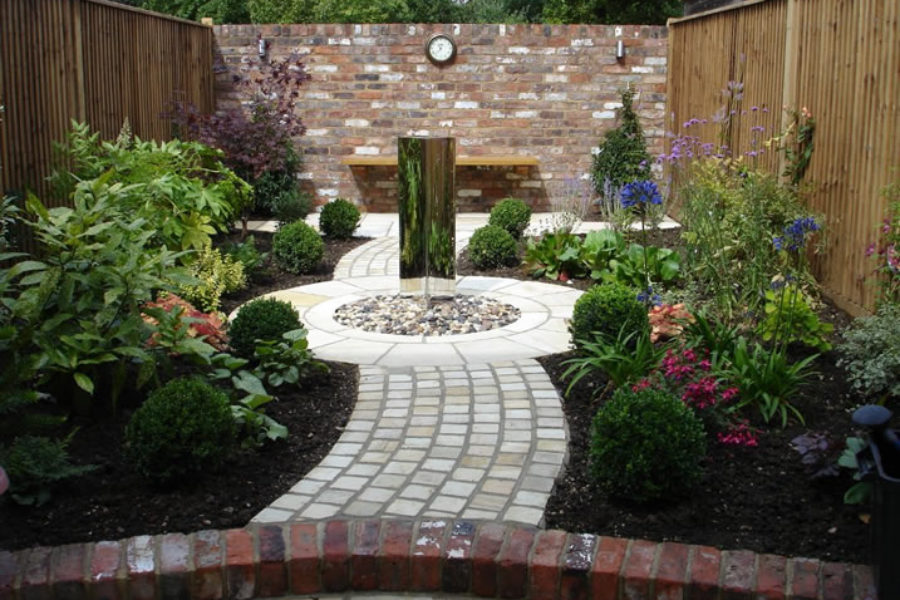 Even when you have made your decision about the type of paving to be used there are often decisions to be made re the colour or indeed the finish of the paving especially if your choice is Indian sandstone for example there are about 6 different colour choices ranging from mint to buff brown to castle grey – however this is where we can step in with our experience and advise our customers to make the choice that is right for them.
One client requested a contemporary look to his back garden – this was created through an angular approach to the design of the garden and by selecting the right plants but one of the major factors in achieving the impact the client desired was to use black slate paving with a smooth finish. The choice of black slate makes the garden a stand out space and requires low maintenance throughout the year.
Most of our clients choose Indian sandstone, its timeless appeal as a traditional building material is suited to traditional and contemporary gardens and therefore provides the perfect backdrop for showing off your planting design. It does however require some maintenance during the year, a good jet wash being the ideal cleaning method.
Another popular request from clients is to provide a flush finish and so provide a smooth transition from their inside space directly out onto their patio – again this is where we are experienced in providing solutions to our garden builds.
So if you are tempted to invest in a new patio contact us! – call 0118 934 2958 or 01635 552 288. We pride ourselves in attention to detail such as providing drainage solutions to keep your patio looking good and puddle free throughout the year. A visit to our preferred supplier, Nigel Belcher Turf and Paving in Hermitage (01635 202700) and a browse through a paving brochure is recommended as a perfect start to planning your new patio!